Escape the Room is not your average night out. Instead of the same old experience, you and your group will be thrown into a mind-melting, exciting adventure that starts as soon as the timer does. If you're new to Escape the Room, you might be curious as to how you can set yourself (and your group) up for success. You're not alone! Many curious participants have asked the same thing, so we've compiled an article all about Escape Room clues you and your team can use to break out of the room and seek eternal glory.
Read on to find out the most insightful tips from the experts to help coordinate and perfect the best night out for your Escape the Room adventure.
Invite your fun friends
Clue #1: You can't always pick your family, but you can pick the people you have an Escape Room experience with. Clue number one is to pick your group wisely before partaking in an Escape Room scenario. A great way to get off on the right foot is to include an excited, energetic, cooperative group that will build on individual skills to reach the end goal.
Escape the Room is all about finding the right clues in Escape Room and solving the puzzles as quickly as possible. Each puzzle will be different, and a group will have players with a diverse set of skills and knowledge to help break the code and solve the puzzle without delay. It isn't always about knowledge and intellect, sometimes it's about being quick on your feet and observant to the room around you!
Not able to hand-pick your group? No worries! You might find that a group of strangers or co-workers you don't know very well end up being the perfect match for the game you need to play. Help your group maintain a high level of fun plus a great attitude and you'll be good to go!
Show up early
Showing up early can help you get with your group and talk about the challenges that you might face. If you aren't completely familiar with your group, this is another opportunity for you to get to know the people in your group and see if anyone has experience with an Escape the Room adventure, or simply to get to know one another and increase the fun level before the game starts.
Another important reason to get to the facility early is to get started on time! The last thing you and your group want is to have to rush through instructions and jump right into the game unprepared. Maximize your time in the room with good listening ears and just enough time to talk it over with your group. You might be able to strategize better than you think!
Use the restroom, grab some water, and jump right into the game with all of the necessary information you will need in order to make this a fun and exciting event!
Understand the rules, completely
Showing up early is just half of the fun, paying attention to the rules is the other half. You will want to go through and listen to the rules with your guide before your Escape the Room game starts. Listen well! There could be hidden clues, hints and important information your guide will throw in to help you reach the end of the game faster.
Now, you don't want your guide to tell you exactly what to expect, and your guide likely won't spill the beans, but you will lose time if there are things that happen within the room, like broken items or touching items that aren't a part of the game. Not only will you be breaking rules, but you are also wasting time by attempting to interact with objects that aren't a part of your mission.
Lastly, ask your guide questions! If you have enough time beforehand, you should be able to have any itching questions answered that will help you move through the room faster and easier. Common questions include: "Can I remove objects from walls?" "Can I move large objects to see if anything us underneath?" "How will clues be given to us if we are stuck?"
The room clues will help you achieve greatness faster! Clues for Escape Room are everywhere, sometimes the closer you listen and the more questions you ask, the better you will do.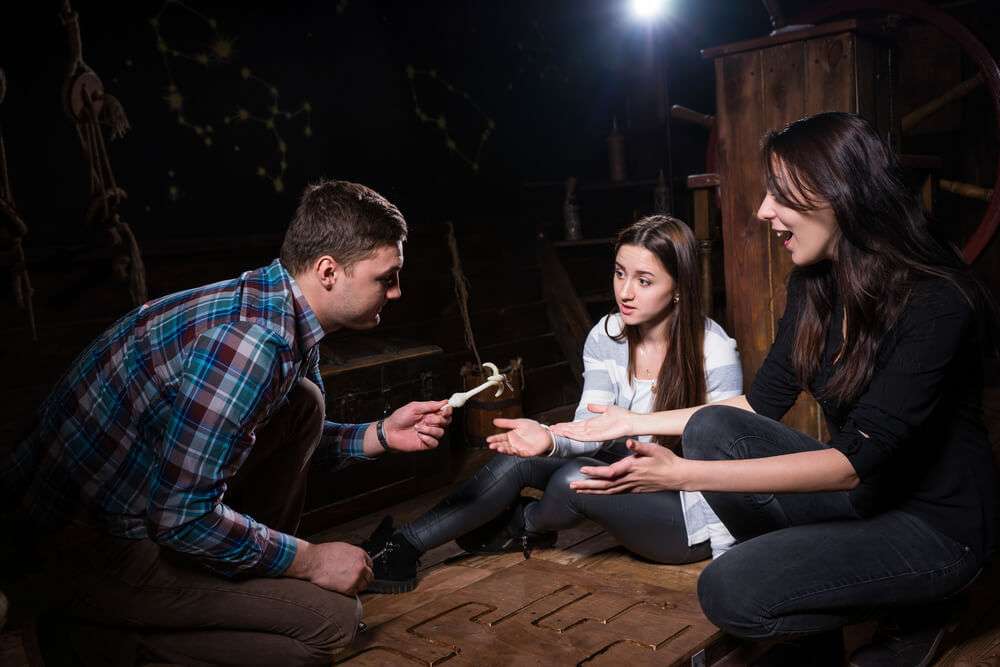 Divide and conquer!
Clues in Escape Room can be in multiple locations at the same time. Dividing your group up in separate clusters will help you section by section. When the timer starts in your room, you will want to begin right away. Some group members may be searching through boxes and drawers while others will move objects around to see if they can get a clue in Escape Room that will help solve the puzzle.
Touch, move, seek, and find! If there is a member of the group who claims they have a hide and seek strength, have them lead the pack in finding the first clue. For everyone else, there is plenty to do, see, and search for in the room. Once you find the clue or once you think you have found a clue, call out to your team to come to investigate!
Dividing your team doesn't mean simply dividing and looking for clues, you may want to divide the team up into leaders, communicators, and supporters as well. For team members who are self-proclaimed experts as problem-solving, have that person take the lead if you find a word puzzle. For others who are better at cracking number codes, let them shine in their expertise while you and the rest of the gang find something else to do to help.
Communication is key
You have to talk to one another in order to successfully escape an Escape Room. If you aren't close with the people you are working with, now is the time to get friendly. Give out tasks, responsibilities, and jobs for members who aren't sure where their strengths lie and notify your team as soon as you find a clue! The more the merrier when it comes to problem-solving.
There is a chance it won't be incredibly easy to see in the Escape Room, either. You will need to talk to your group through steps and procedures as well as help any members who might need a little more direction than others. If you are a natural leader but solving a series of photos in chronological order isn't your thing, don't volunteer for the lead position. Allow others to shine if a certain activity isn't your strong suit.
We hope you have found this article helpful and informative. For any game, you will want to be as prepared as possible without finding out too much which will spoil the surprise. At the end of the day, an Escape Room experience can always be fun! For more information on our Escape the Room experience or to book your next birthday, corporate event, or a night out, give us a call and speak with a helpful representative who will be able to answer your questions.