Children are inherently inquisitive, creative, full of energy, and eager to play. This makes them the perfect counterpart to sometimes overthinking adults who come to an Escape Room unable to find solutions to questions or puzzles that are simply lacking outside the box thinking.
Now you might be thinking, an Escape Room for kids? How does that work? Certainly a quick call to an Escape Room will help answer any age-related questions, but for the most part, children over the age of 10 or 12 are welcome to play alongside adults who are friends or family members. In fact, Escape Room games for kids often make the perfect birthday party as long as an adult is present to oversee the process.
Escape Room is a perfect family outing outside of the traditional dinner and movie, putt-putt course, or busy bowling night, but there are tips and tricks to consider when asking your children to come alongside an Escape the Room game night with your family or a group of friends.
This article will detail Escape Room ideas for kids as well as 5 tips to help your children (and family) fully appreciate and enjoy Escape Rooms.
What is an Escape Room?
Escape Room is a 60-minute timed strategy game where your group will be presented with games, puzzles, riddles, and codes to crack within the one hour time frame. At the same time, each small segment builds on the previous puzzle, so thoughtful logic, reasoning, and strategy will be needed to employ a quick solution before the time runs out.
This group game is exciting, fun, and encourages communication among the group, which can be complicated for teenagers or young children to grasp. One main challenge is how to keep children or young adults focused during the time frame that is allotted for the game. Thankfully, with enough prep, supervision, and healthy communication, you will be able to involve children in an Escape the Room scenario without any major issues.
The goal for an Escape the Room game is to finish the game at or under 60-minutes with the help of your teammates! Even without children, this can be difficult for players if they aren't ready to have fun, communicate, and think outside the box. If you decide to bring the kids along for a fun, family night, here are our 5 suggestions for fantastic Escape Room games for kids!
Call ahead and do some research
When you search for an Escape Room near you or call an Escape Room a friend or family member referred you to, think about the possibility that there might be a theme in the rooms that are not appropriate for children. For example, some Escape Rooms have a theme of a bloody zombie apocalypse, a jail or abandoned prison, and more. Other Escape Rooms don't have themes at all! The more you know about the location you are going to, the better you will be able to prepare the children and adults in your group.
Pro tip: If you Escape Room doesn't have themes, no worries! Sometimes it is more fun to pick a theme yourself and for your group and create your own experience. You can choose to play as superheroes, celebrities, animals, 80's or 70's theme, and more! Ask your Escape Room customer service representative to give you some inspiration if you aren't sure which direction to go.
Have a conversation with your child or children
Sometimes children aren't nearly as frightened of events as we think they might be. A great way to set a child or children up for success for an Escape Game is to have a conversation with them beforehand. Talking to your child about what an Escape Room is, what they will be doing in the time frame, and assuring them that they will be perfectly fine and safe will help squash any nerves your child or children might be having.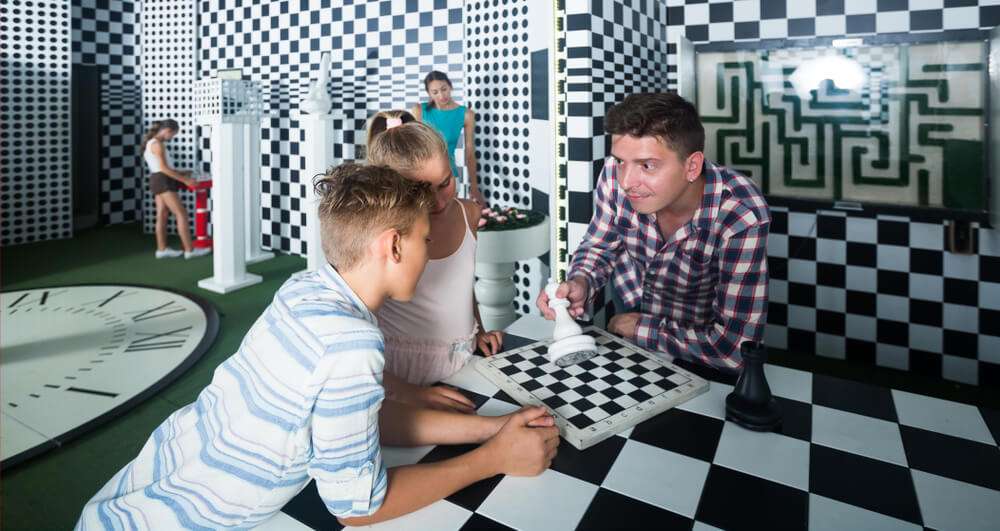 Explain to child why you are going. If there is a fun celebration, let them know the friends or family members that will be there playing alongside them. They might start to get incredibly excited to partake in the fun when they know they will have friends and family there as well. You can have a conversation leading up to the event or fifteen or twenty minutes before the game starts. There will be a guide working with the Escape Room location who will tell you the rules and regulations on top of the conversation you will have with your child.
Pro Tip: Speak in a language your child will understand. Ask them if they have any questions and let them know they will be solving puzzles, riddles, and games. A great idea to prepare them for the event is to give them activities that will be similar beforehand they can work on before the Escape Room game.
Do not expect your child to play or act like an adult
If it is going to be too difficult for you to manage your child, it is best to leave them home. What do we mean exactly? If you aren't ready to go above and beyond guiding and explaining to your child how to play while you are playing, perhaps this isn't the game for them. If you are ready to hold their hand sometimes and be a great teacher, Escape Room can be a perfect activity for the family.
It is not realistic to believe you can bring your child and allow for them to not participate. No one will win in this situation. They will be excited to help you find and seek or help you with puzzles and riddles, as long are you are ready to help them through the process.
Give your child a manageable task
Unless your child is some kind of 10-year-old wizard who knows how to crack codes, don't expect your child to be doing some of the more advanced tasks that are required to complete the tasks that will come later in the game. Contrary to what you probably believe, there will not be insanely complicated tasks at hand, and most adults should be able to complete all of the sections, especially together.
That said, children are incredibly creative and able to find and seek objects well. If this is a part of your game, and likely looking for hidden objects will be highly likely, send your child to do an age appropriate task that will actually help your group get to the result you need, which is a win. Other tasks that are easy for children include pattern recognition, number games, word searches, and finding objects with a black light.
Children are excellent at having fun! In fact, it is a job they are sometimes much better at than adults. Escape Game for kids can be a great way to get outside of your sometimes boring box of adulting and have fun, like a kid again! Don't forget to send your kiddo lots of positive reinforcement and let them take the lead if the task calls for it.
For more information on how to include your kids in an Escape the Room game, the best way to do so is to call the office nearest you, or your preferred location and ask! Our employees have experience with all different group dynamics and are happy to help you create and plan the most fun, exciting, family activity you have always dreamed of! Give us a call today and book your experience.