Let's face it, date night has gotten a little boring. Movies and dinners are great, but they lack pizazz. What dating needs, is a makeover. Whether it's a first date or a weekly ritual for long-term couples, date night should breathe air into the relationship.
And what better way to do that than to lock yourself in an escape room with your partner?
The popularity of escape rooms is largely based on teamwork. Oftentimes, companies will rent out a room in order to test the problem-solving skills and collaborative capabilities of their teams. Successfully beating an escape room clock is about group work. So, managers use the rooms to observe their staff in real-time. An escape room is also a great group activity for friends and families but is also a great way for couples to have a great night alone or with a group of other couples.
A MEMORABLE EXPERIENCE
Whether it's the first or the one-millionth date, an escape room is a memorable experience that stands out against an endless string of movies and dinners. An escape room date takes partners out of their comfort zones and into a role-playing experience that allows for collective problem-solving and communication. Some escape rooms even offer photo opportunities upon completion of the challenge. You'll get that perfect pic for your IG followers, which is sure to spark interest over your fabulous escape room date night.
A COST-EFFECTIVE ADRENALINE RUSH
Maybe you've already been looking into an adrenaline-inducing date night option. And perhaps you've considered extreme sports, like skydiving. Though exciting, many of these options are expensive and can be too extreme for some partners. An escape room is the perfect, cost-effective option for partners looking to add a rush to their date night. Escape rooms operate on a time limit, so participants must work quickly and efficiently to beat the clock and, quite literally, escape the room.
CHEMISTRY
Escape rooms are like laboratories. They provide the perfect environment for participants to learn about one another. This is especially true for new couples, who can benefit from learning about each other's communication styles. Beating an escape room clock takes both strong communication and teamwork. Under the room's ticking time limit, you will be able to discern how your partner acts under pressure. Though bound by the circumstance of the game, you'll be able to observe behavior that may appear later in your relationship.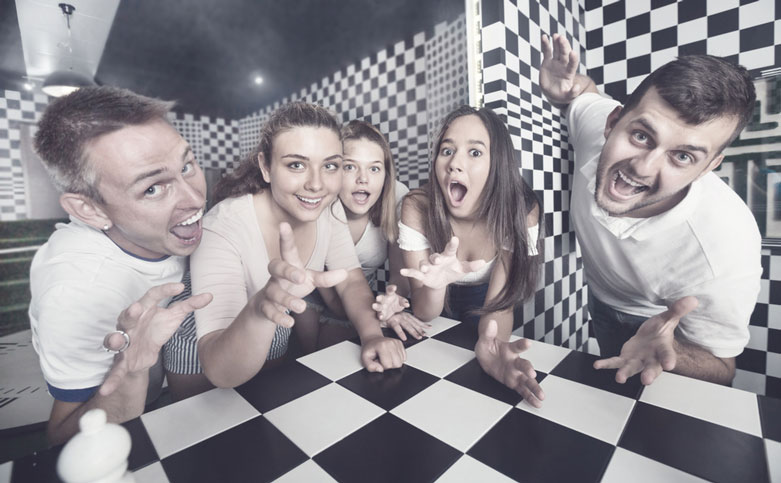 HEALTHY COMPETITION
In general, escape rooms encourage a level of competition among participants—even if it's success based on teamwork. People are eager to demonstrate their intellectual prowess, and this can sometimes turn into domineering behavior. If you are using an escape room as a first date, bear in mind that it is a game. If your date acts unfavorably competitive, try to give them the benefit of the doubt. After all, you don't know them very well. Their competitive nature could be part of their plan to impress you. Competition among long-term partners will likely be less of a surprise, as couples have grown familiar with each other's quirks.
GROUP DATE NIGHT
Looking to spice things up? Try a group escape room date night. With more participants in the room, you'll get to enjoy the opportunity to work as a team, alongside both your partner and your friends. Group dates also add an exciting touch of competition among couples, who race to unravel the clues faster than the other. And as always, the more brains in the room, the richer the experience.
It's time to put the excitement back into dating. Come and try out our 60-minute, Escape The Room challenge. Test your intellect and problem-solving capabilities in one of our many locations around the US. We can't wait for you to come in!